Collections
Special Collections
Special Collections and Archives administers access to the Rare Book Room collections. These include the Charles Harrison Collection, which contains over 800 rare and unusual books reflecting the history of scribal and print culture from the 13th to the early 20th centuries, and the Louis Daniel Brodsky Collection of William Faulkner Materials, one of the world's four most significant collections of material on Faulkner. Access to the Rare Book Room is by appointment only. Appointments can be made by calling the Archivist at 573.651.2100.
Regional History Collections
Special Collections and Archives is the official repository for regional history research materials on the campus of Southeast Missouri State University. Special Collections actively collects and receives, through donations, material documenting the history of a 14-county region in Missouri. The subject strengths of our collection reflect the most significant historical happenings of the region -- European settlement, foreign and domestic wars, river and rail transportation, the draining of the Southeast Missouri swamps in the early 20th century, and the subsequent rise of agriculture in the region.
Special Collections and Archives houses more than 500 Regional History Collections, consisting of over 2,200 linear feet of materials, including maps, historical site surveys, clippings, postcards, oral histories, newspapers, business and organizational records, architectural records, and over 280 linear feet of photographic material.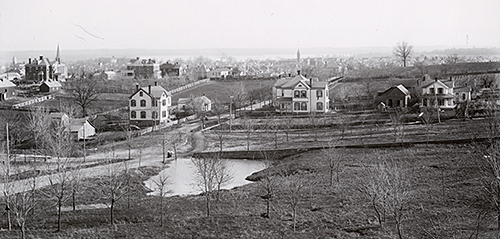 Special Collections and Archives houses the archives of Southeast Missouri State University, from its founding as the Southeast Missouri State Normal School in 1873 to the present. Records created by key university administrative entities and offices, organizations, faculty, and faculty governing bodies are housed here. University publications, like the Capaha Arrow newspaper and the Sagamore yearbook, are located in Special Collections, as well as over 2,000 diverse photographic images of people, buildings, and campus life.