Kent Library Curbside Pickup
Kent Library is open, and we will continue to offer curbside pickup for library users. You have two options for requesting materials.
Option 1 – Curbside Request Form
Click here to fill out a form to request books and/or dvds. You may have to download the blank form before filling it out. If you prefer a Word document instead of a pdf, click here.
Enter your information and the titles and call numbers for books or DVDs you want to borrow.
Select one of the available pick-up times.
To save the completed PDF from your web browser select File > Print, then choose the setting of "Save as PDF". Save the form as "your last name request" and email it to circulationdesk@semo.edu For example: "Jones request.pdf" or "Jones request.docx".
Circulation will email you, confirming the availability of the titles you requested, your pickup time and pickup instructions.
The morning of your pickup, you will receive an email receipt showing the items requested were checked out to you.
When you arrive at Kent Library, please park in one of the designated parking spaces for curbside pickup near the back doors of the library.
Call 573-651-2232 and tell us your name and the spot number where you are parked
When we bring your items out, please show us your photo ID through your window (either your Southeast ID or other government issued ID).
For contact-less pickup, pop your trunk, and we'll place your books in your trunk. Otherwise, we can hand the books to you through your window.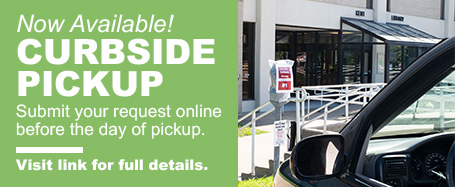 Option 2 – Online Holds (For faculty, students and staff)
Online holds for Kent Library items have been re-activated.
Place an online hold through the library's webpage.
If you wish to utilize curbside pickup, when you receive the email saying your item is available for pickup, call the Circulation Desk at 573-651-2232 to schedule a pickup time (the number will be in the email as well).
Curbside pickup times are as follows:
a. Tuesday between 11:30 and 1:30
b. Wednesday between 3:30 and 5:30
c. Same day pickup is not available
Please contact the Circulation Desk at 573-651-2232 or email us at circulationdesk@semo.edu if you have questions or need assistance.